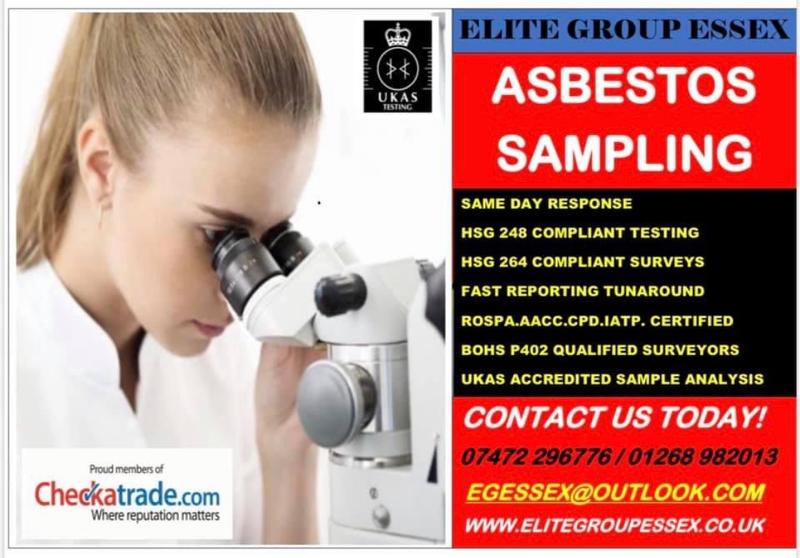 Please read for more information:
:We offer a full range of asbestos sampling throughout Essex - London - Kent - Suffolk - Norfolk
:We come to you !!!!
:All samples are tested in a fully approved UKAS accredited laboratory working to ISO-17025.
:Fast turnaround on asbestos samples!
:We can test any type of suspicious material for the presence of asbestos fibres.
: All types of asbestos sampling and asbestos testing.
:Samples and tests analysed by UKAS accredited laboratory to ISO-17025
:Fast response time.
:Quick turnaround from sample to final results.
:Emergency responce for any asbestos samples due to a project coming to a halt.
:Post asbestos removal work sampling and testing.
:We also test contaminated ground and soil.
:Bulk analysis and density asbestos testing.
:We can turn around emergency sample analysis within 24 hours.
:Under no circumstances can we tell for certain that a material contains asbestos without a sample and then the associated asbestos testing being undertaken.
:The fibres are simply to small to identify with the naked eye.
:Our fully accredited laboratory will check your asbestos sample using the guidance in HSG-248
:Contact us today to make a booking.
OFFICE: 01268982013
MOBILE: 07472296776